Solutions for
Businesses
Government
All
Providing distinguished solutions to create a decentralized world. Bringing people together on a trust enabled platform.
We provide a host of offerings to help in the adoption, integration and realization of Blockchain solutions
MORE ABOUT US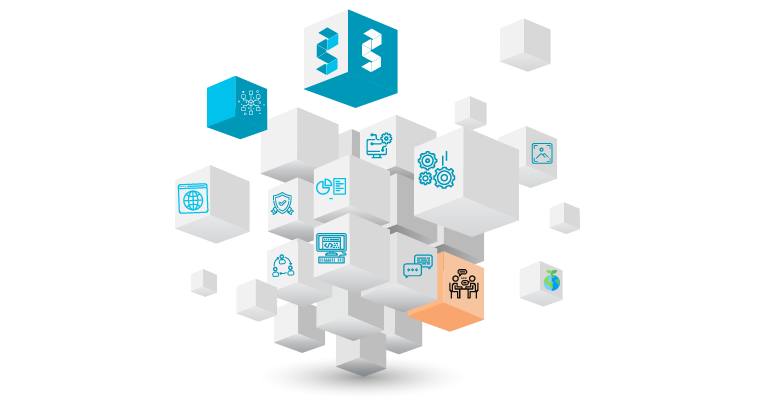 Blockchain Development
Build permissioned private Blockchain applications for any industry and save on infrastructure and operational costs.
Blockchain Consulting
Strategic advice on successful employment of Blockchain technology to optimize the potential outcomes.
POC Development
Elaborate Proof of concept services to showcase the technical viability of a product and its market potential.
Blockchain Analytics
Robust data analytics practices to make businesses aware of the power of data driven decision making.
Shape the future. Get in touch with us
Be a part of the revolution and the new technology of trust.
We Serve Multiple Industries, Globally
Blockcube is one of the leading research houses in Blockchain. We provide specialized consulting and
development in a wide array of industry verticals
SUPPLY CHAIN
Our digital fusion of Blockchain and IOT brings resilient authentication validation tools enabling efficient end-to-end traceability along the chain.
E-GOVERNANCE
Building a robust Blockchain based ecosystem for digitization of various Government records. Our approach is to establish trust, transparency and accuracy.
INTELLECTUAL PROPERTY
Blockchain can help to minimize infringement as well as provide an electronic chain of custody for each and every piece of IP.
HEALTHCARE
Decentralized infrastructure to store Electronic Health Records which are provably accurate. EHR is stored immutably to easily track clinical history.
TELECOM
We provide a DLT-based solution for telecom service providers to streamline BSS/OSS, reduce spam and roaming frauds and maintain compliance. 
REAL ESTATE
Provisioning, a Blockchain-enabled, dynamic security issuance and diversifying a long-term real-estate investment portfolio.
Creating A Decentralized
World
We believe in creating value for our clients. We ensure reliable and secure services for our clients
DRIVING INNOVATION
Unlocking Blockchain's Potential