AI Development
Our cutting-edge AI development services enable businesses to automate their processes and solve complex problems efficiently. Our team of experts specializes in automating repetitive tasks, minimizing downtime for complicated processes, and accelerating decision-making. Our AI solutions are designed to integrate seamlessly into businesses and provide automated solutions for new opportunities.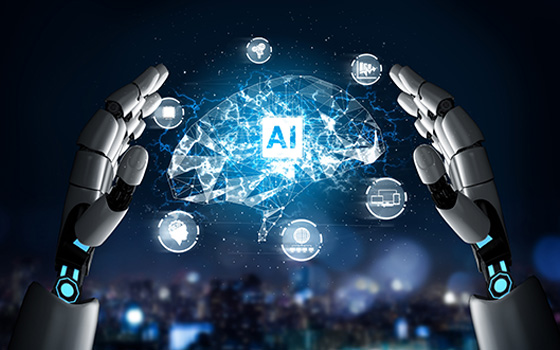 Utilize our AI development services to build enterprise solutions of the future.
We enhance the performance of business applications by implementing data-driven AI solutions that utilize deep learning, machine learning, computer vision, and natural language processing.
End-to-end AI Model Development
We offer end-to-end AI model development services, which encompass assessment, model selection, data preparation, training, and parameter adjustment to ensure precise and reliable outcomes.
AI Technology Consulting
Our AI technology consulting services offer expert advice and guidance on designing an AI solution that meets the specific requirements and goals of a project.
Fine-tuning Models
We optimize the trained model by utilizing transfer learning, learning rate scheduling, data augmentation, regularization, and hyperparameter tuning techniques to achieve the optimal results.
AI Model integration and optimization
Our AI Model Integration and Optimization service focuses on custom integration, model fine-tuning, and implementing cutting-edge techniques to enhance performance, streamline workflows, and increase efficiency.
AI Conversational Tools
We specialize in developing generative AI tools such as ChatGPT, Midjouney, Dall-E, and chatbots with unmatched accuracy in natural language processing (NLP) and natural language understanding (NLU) through our custom hybrid AI model.
Custom AI Solutions
Our AI development team creates bespoke solutions that leverage cutting-edge technologies such as voice assistants, game AI, predictive maintenance, sentiment analysis, and more. These solutions are tailored to your unique needs, enhancing brand awareness and productivity. Additionally, we specialize in developing systems for voice recognition, anomaly detection, autonomous systems, and fraud detection.
Industries that approached us for Smart Contract Development  
Healthcare
Retail
Supply Chain & Logistics
Insurance
Automotive
Banking & Finance
Start a conversation by filling the form 
Once you let us know your requirement, our technical expert will schedule a call and discuss your idea in detail post sign of an NDA.
All information will be kept confidential.