Blockchain Development
At our company, we specialize in creating tailored blockchain solutions using various technologies, such as Hyperledger, EVM, Solidity, Cosmos, or Substrate. From designing business logic to setting up blockchain nodes, we possess the expertise to develop decentralized platforms for a range of applications, including NFTs, bridges, DEX, metaverse, tokens, and dApps.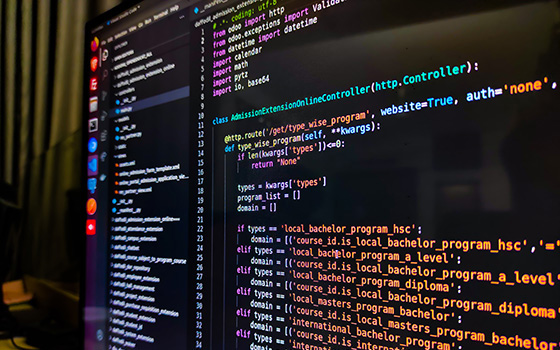 Collaborate with Us to Access Advanced Blockchain Development Solutions.
Our business enterprise focuses on supporting startups and companies in enforcing reliable and steady decentralized blockchain answers for his or her enterprise automation. Our customized blockchain solutions are designed to cater to specific business requirements through the integration of features, system modifications, and implementations. 
dApps Development
Our team of blockchain developers is skilled in planning, designing, and developing enterprise-grade decentralized applications that can help clients expedite their time to market and maximize their return on investment.
Smart Contracts Development
We specialize in the development and deployment of self-executing contracts for both public and private blockchain networks. Our smart contract development services cover a wide range of applications, including crowdfunding, blockchain-based supply chain solutions, NFT projects, and various decentralized applications (dApps).
Custom Blockchain App Development
We possess expertise in different blockchain platforms, such as Hyperledger, Polkadot, Tezos, Tron, Stellar, and EOS, and specialize in building scalable and resilient custom blockchain software solutions for startups and enterprises.
Blockchain Supply Chain Development
Our team specializes in developing, deploying, and managing blockchain-based supply chain solutions that provide full transparency throughout the product's journey, minimizing communication gaps and data transfer errors.
Blockchain Wallet Development
Our blockchain developers are skilled in building web and mobile wallet applications that are robust, feature-rich, and facilitate the exchange of a broad range of digital assets and currencies. These wallets are also integrated with cross-chain token swapping capabilities to enhance their functionality.
Tokenization
Our blockchain development team can assist you in tokenizing any asset you desire, offering increased transparency, efficiency, and trust. Tokenization eliminates volatility and enhances the liquidity of various assets, making them more accessible to a broader range of investors.
Decentralized Exchange
Our blockchain development team is proficient in creating secure and resilient decentralized exchange platforms for Android and iOS that allow for the real-time exchange of digital currencies. These platforms are designed to be hack-proof and provide enhanced security and efficiency.
Blockchain Development Platforms We Work On 
Hyperledger Fabric Indy
Ethereum
Binance Smart Chain
Tron
Avalanche
Solana
Industries that approached us for Blockchain Consulting  
Healthcare
Government
Telecom
Identity Management
Supply Chain
Lending
Start a conversation by filling the form 
Once you let us know your requirement, our technical expert will schedule a call and discuss your idea in detail post sign of an NDA.
All information will be kept confidential.